Contact Us
Prof. Vijay Kanabar, Conference Co-Chair
Prof. Rich Maltzman, Conference Co-Chair
Thank you for your interest in Boston University's Project Management in Practice Conference. For general conference questions, you may directly email Professors Vijay Kanabar at: kanabar@bu.edu or Professor Rich Maltzman exclaim@bu.edu.
Agile Track Chair – Prof. Jim Hannon email him at: jhreds@gmail.com
P
roject Coordinators
Aliya Yabekova
Aliya is from Almaty, Kazakhstan. She is a Project Management graduate student at Boston University. She previously worked in marketing and general management for Henkel, Yandex/Uber, and American Councils for International Education.
Di (Mollie) Jiang
Mollie is a Vice president for Boston University Project Management Club, graduate for BU Project Management major. 4 years' experience in Supply Chain Management and product digital transformation project at multinational company.
Joëlle Cavin
Joëlle is originally from Switzerland and currently a graduate student at BU with Project Management as major. Simultaneously, she is doing a second master's degree in business Innovation at the University of St. Gallen. She has previous work experience in product management, consulting, and HR.
Hajar Niroomand
Hajar Niroomand, PMP, has Master's degree in Computer Science from Boston University, she is an employee of Princeton University, working as a Network Engineer. She is leading Security and Monitoring team and involved in design and implementation of Next Generation Network in Princeton University. In addition she is the project manager for many IT projects for Princeton's networking group. Prior to Princeton University, Hajar worked for 7 years in different companies in computer engineering field. Hajar started facilitating BU MET graduate classes in 2014, she also teaches Computer Science classes in "The college of New Jersey".
Meruyert Nussambayeva
Meruyert is a graduate student at Boston University doing Master in Financial Management degree. Before joining BU, she earned Graduate Degree in Finance from University of York (UK). Meruyert has more than 6 years of Big 4 Consulting experience in Kazakhstan. Meruyert worked as BU PM course facilitator during the 2019-2020 academic year, simultaneously working as Research Assistant for Virginia Greiman. Currently, Meruyert is interning in Fresenius Medical Company North America in Financial Planning and Analysis department.
Meruyert Yessenbayeva
Research intern at Boston University. Meruyert earned a Master of Science in Project Management from Boston University in 2020. Prior to joining BU, she worked as a civil service employee in Kazakhstan coordinating multiple governmental projects. Meruyert enjoys hiking, playing tennis and learning languages.
Sanaz Sadeghian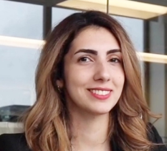 Sanaz Sadeghian PMP, PMI-SP, is a young professional in project management who graduated with a Masters Degree in Project Management recently. She is the president of the Project Management Club at Boston University (BUS-PMC) and has published articles in scheduling and planning. She has a bachelor's degree in Industrial Engineering and more than five years of experience in Oil & Gas and construction industries. Sanaz has also focused on consulting and researching and she is a teaching assistant at the graduate level at the MET Department of Boston University. She has been recognized for her excellent cross-functional knowledge, leadership, and communication.
Out Thanks To….
We would like to thank additional project experts – Christopher, Jayant, Cicek, Tracy Shan Ning and Rana.
MET IT at Boston University for facilitating the Zoom accounts and tracks.
Administrative Staff at BU MET Admin Sc. Dept.
The Faculty at MET Admin Sc.